Can a robot actually foster humanity between strangers? Not only does Frank Bu believe it – he's seen it happen.
A third-year doctoral student in computer science and human-computer interaction based at Cornell Tech, Bu oversaw the deployment of a pair of trash barrel robots – one for landfill waste, one for recycling – in Brooklyn's Albee Square in July. The trashbots are 32-gallon garbage and recycling pails on top of repurposed hoverboards, with 360-degree cameras attached.
The goal of the experiment: to see how people interact with, and make sense of, service robots. The cleaning was an added bonus.
"We're trying to build models for social interaction in public spaces," said Wendy Ju, associate professor at the Jacobs Technion-Cornell Institute at Cornell Tech and the Technion, and a member of the Department of Information Science in the Cornell Ann S. Bowers College of Computing and Information Science.
"And in those cases, you can't train everybody who's coming into the space on how things should go," she said. "So it's much more important to understand what sorts of norms and assumptions people have going in."
Bu, a member of Ju's lab, was struck by one interaction involving a woman at a table requesting that one of the "trashbots," as they're known, come and take her garbage.
"The robot was blocked by the table in front of hers, and the people at the other table were kind of annoyed – like, 'Why are you coming to me? I don't need you,'" Bu said. "But then they saw the lady behind them requesting it, and so they apologized, and then the two groups started talking. It just really felt to me like the robot was promoting this connection in the community."
The Brooklyn deployment, done in collaboration with the nonprofit Downtown Brooklyn Partnership (DBP), was the second in New York City for Ju and her team. In 2022, they experimented with trashbots on Astor Place, in Manhattan's East Village.
That first deployment resulted in a paper, "Trash Barrel Robots in the City," which Bu and fellow team member Ilan Mandel, a doctoral student in information science, presented at an international conference in March.
During this latest deployment, DBP president Regina Myer said Brooklynites – especially children – really took to the robots.
"It was a real pleasure to work with the Cornell research team on this project," Myer said. "Everything went smoothly, and the deployment was almost like a daily performance that intrigued and entertained folks on the plaza. We got a good deal of press, and hopefully the team went away with valuable insights."
'Wizard of Oz' method
Bu said the trashbots, which can run for up to four hours between charges, roamed Albee Square for a couple of weeks, usually from 2-4 p.m., following the lunchtime rush. The experiment employed the "Wizard of Oz" method: The public thinks the robots are acting autonomously when, in fact, they are being controlled by humans – in this case, student interns supervised by Bu.
The trashbots elicited a range of responses – from childlike wonder to curiosity to, in rare cases, skepticism or downright anger. There was a significant difference, Bu said, between the reaction to the robots in Manhattan and in Brooklyn.
"In Astor Place, there are a lot of tourists, and a lot of people who don't really have a concept of what New York City is," he said. "But Albee Square is in the heart of Brooklyn, and most people who hang out there have lived there for decades, they're New Yorkers. Everyone goes there to have fun, and their connection with the city is deeper."
Ju, who began working on trashbots a decade ago while at Stanford University, where she received her Ph.D. in mechanical engineering, noted that some people seemed very interested in knowing to whom the robot belonged, as if that would make a difference in their perception of it.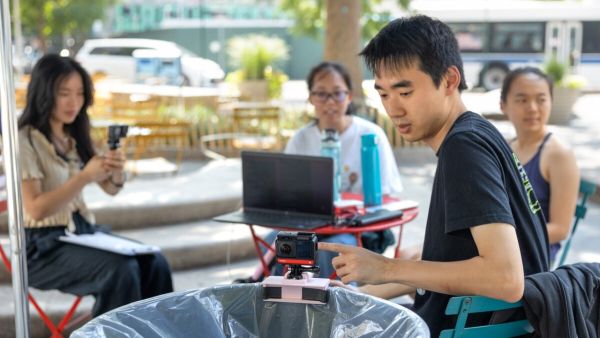 "We leave that a little bit open-ended for the study," she said. "But I think that part of the reason why people want to know is that they'd interact with the robots differently, depending on whose robots they were. And they want the information at the outset, so they know how to interact."
Although she had yet to analyze the hours of video footage from the robots' cameras, Ju said there were a couple of big takeaways from the experiment, including laying the groundwork for future research into public-service robotics.
"We can write some design guidelines, explaining what people's default assumptions are," she said. "It's about figuring out the things that should matter – what are the distances we need to keep from things? How regularly should we visit people? We can build some computer models to make that sort of thing more automatic."
In the meantime, Ju said her team is looking into other areas for the next round of deployments and studies. It hasn't always gone smoothly, but she's hoping to win the Big Apple over, little by little.
"Obviously, the places in New York are similar to each other, but different enough," Ju said. "And one of the things that engineers are not often attuned to are how there are differences in every place that you deploy the technology, and how those differences matter."
By Tom Fleischman, Cornell Chronicle
This story was originally published in the Cornell Chronicle.